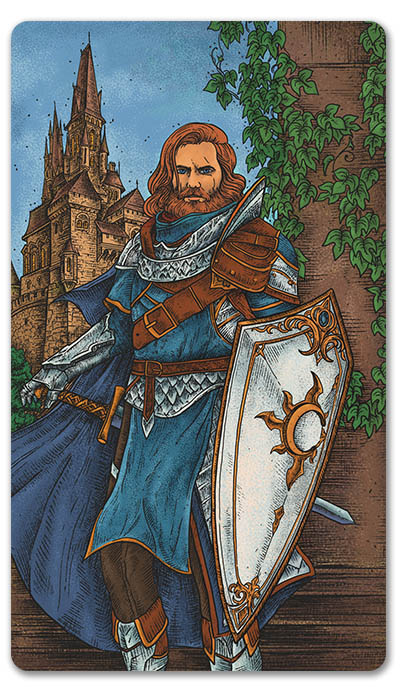 The Shield
There are two sides to the warrior archetype. He is a fighter, and his sword is his tool of attack. However, he is also a defender, and his Shield is his tool of protection. Using the Shield, he will defend not only his own life, but that of his family, his village, his tribe, his brothers and sisters in arms, with his loyalty and devotion never in question. His willingness to sacrifice himself in our defense, if necessary, is a marker of the utmost commitment.

From the earliest known wooden shields to today's high-tech, armor-plated military and law enforcement defences, we, the community, have always relied upon the strength of someone's Shield for our protection. The Shield card therefore turns up when matters of defense and loyalty are in play.

The Shield card may arrive when you need to protect yourself – or someone else. If you are protecting yourself, this card urges strength and stability in the face of attack, and it blesses you with the bravery and tenacity you will need.

If you need to protect someone else, the Shield card pays tribute to your loyalty and devotion and gives you the tools you need to stand up for what is right. This is usually a long-term issue, so the Shield card also grants commitment and staying power. Should it eventually be necessary, you may have to sacrifice something for someone else's benefit – the Shield card is a reminder of your responsibility to others in this sense.

The Shield card also turns up when you need to join forces with others for protection or defense. Most warriors of myth and lore were not solo fighters; joining ranks with others will enable you to collectively wield your Shields in a wall of impenetrable defense. The message from the Shield card in this situation is to always ask for help and backup; it will usually be forthcoming.

When you draw the Shield card, ask yourself the following questions: who or what most needs protection now? Is it you, or must you take on the role of defender for someone else? Where do your true loyalties lie? Are you willing to make a high level of commitment and sacrifice – and if not, have you given fair warning that you will not be this person's defender? How can you best show your devotion to someone who is struggling? What additional help do you need if you are trying to protect yourself?
© Copyright 2023. All card images and designs associated with MoonCards.com are the sole intellectual property of Moon Reading LLC. Any unauthorized copying, distribution, sharing, or use of these images in any form or manner, whether in whole or in part is strictly prohibited. All rights reserved. Our mission is to transform lives by providing content, products and programs to help people connect with their intuition for serenity, calm and spiritual guidance. We provide accurate and educational Moon Card Oracle Readings and information based around astrology, cartomancy and other forms of divination. This material is for entertainment purposes only and should not be used as a substitute in place of any recommendations by legal, medical, or financial professionals or other professional counselors. Made with ♥ by MoonReading.com. Terms of Service & Privacy Policy.