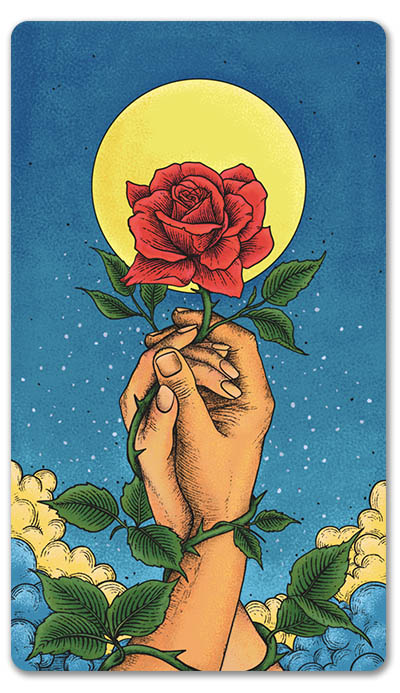 The Rose
A single red rose for your beloved, a magnificent bouquet of roses to woo your intended, romantic rose petals scattered down the wedding aisle – the Rose has been a symbol of love and romance for centuries.

It is said that Chloris, the ancient Greek Goddess of Flowers, once came across a favorite nymph dying in the forest. Devastated at this loss, she transformed the nymph into a flower which would be the most beautiful in the whole world – the Rose. Ever since, the Rose has come to represent beauty, tenderness, relationships and devotion.

The Rose is indeed beautiful, of course, but there is a greater depth to its symbolism than its attractiveness. Rose petals are easily detached and quick to wither, symbolizing the fragile, ethereal nature of love and the breath-taking speed at which we can fall in – and out of – love. A Rose has thorns too, which prick and draw blood – a reminder that for all of its joys, love can and often does hurt. Whereas pure white roses symbolize innocence and purity, red roses are said to be stained with the blood of lovers in another poignant reminder of love's dual nature.

The Rose card appears when love is in the air. It is a wonderful omen for a new relationship, or for the healing of an existing but struggling partnership. Beyond romance, the Rose also speaks to our other important relationships, including those with family and friends – the power of human connection is an underlying theme of the Rose, which appears to heal loneliness and heartbreak as well as to foretell happiness.

Of course, love comes in many forms. We love our cherished animal companions, we may love our job, our home, our favorite hobby. Whatever stimulates a feeling of love and passion can by symbolized by the Rose – what counts is that the Rose brings us emotional satisfaction.

When you draw the Rose card, ask yourself the following questions: are you happy in love? If not, what can you do about that? Do you feel emotionally fulfilled? Are you lonely or sad? If so, how can the Rose's message uplift you? Are you in love with something rather than someone – your job, your house, your hobby? How does this fit in with your actual love life and your closest relationships?
© Copyright 2023. All card images and designs associated with MoonCards.com are the sole intellectual property of Moon Reading LLC. Any unauthorized copying, distribution, sharing, or use of these images in any form or manner, whether in whole or in part is strictly prohibited. All rights reserved. Our mission is to transform lives by providing content, products and programs to help people connect with their intuition for serenity, calm and spiritual guidance. We provide accurate and educational Moon Card Oracle Readings and information based around astrology, cartomancy and other forms of divination. This material is for entertainment purposes only and should not be used as a substitute in place of any recommendations by legal, medical, or financial professionals or other professional counselors. Made with ♥ by MoonReading.com. Terms of Service & Privacy Policy.